Some NOTES
Need an Address for your Christmas Cards or Phone Number to call a greeting
Enter Your Own News
2007
WEDDING BELLS: Tim and Parker made it "official" in October with a wedding "in the Park" in Brooklyn. Weddings are a great time for some quick family relationship renewal time and there are some picts to support that in the PHOTOVAULT _OR_ PHOTOPAGES.
SPECIAL VISIT: Sharon/Glynn/Brailey visited us in Minnesota in July -- we had a chance to finally meet Brailey. When they got home, we are told that Brailey also "remembered" us and had a good time with a photo book that Ann had sent. Picts in the PHOTOVAULT _OR_ PHOTOPAGES
PHOTOPAGES (hope you have noticed): That is the name I have given to the new PHOTOPAGES site to distinguish it from the PHOTOVAULT. PHOTOPAGES has a little more "glitz" along with "built-in slide shows" on each page. PHOTOVAULT is my "normal" very functional set of pages to just "get the job done" while sharing pictures. I also have some Movies, File transfers, and additional Picts available on my iDisk for family members.

SENIOR RECITAL: March 20, 2007 was Kyle's Senior (Bassoon) Recital at UWRF.

SWIMMING: Feb and Mar are busy swimming months for Tyler at Williams College. There are many movie clips of the Conference Tournament and the NCAA III Meet on the iDisk.

NOTE: On Feb 16, 2007, Karen Skones Denmark passed away after and extended "battle" with cancer. You may access the Memorial Service Folder online.

Medalists: Catalyst Quartet earned a 5th place finish at the International Senior Quartet Convention in Albuquerque, New Mexico on January 26, 2007. They sang "Sweet, Sweet Roses Of Morn" and "Cabaret" in the Final Competition. Total score= 829. Way to go Jim!!!!
---
2006
Involved: 22 Sep 2006 - I have "volunteered" as a web manager and web host for the International Falls High School All Class Reunion 2007. Check the site, leave a message, and let me know what you think! (Try your "family" passwords!!)

Friends: 27 Aug 2006 - Kari and Bruno were married in New York City

60 Years: 2 July 2006 - Ray and Shirley celebrate, with their family and friends, their 60th Wedding Anniversary

Picts: 30 June 2006 - Sarah, David, Grace & Tim visit with Jim/Jean in Ames. Ann, Carolyn, Dave visit for a day! Nice time and a few photos!

Departed: 23 May 2006 - I received email news from Colleen that Matt's stepfather, Tom, passed away (cancer) early this morning (58 years old). God Bless the family as they continue on with life and remember the good times with Tom.

Bonins: 25 April 2006 - Addison Grace is born to Beth and Jim (4th child). Everything is just fine (due date was April 27 so things were "right on schedule" --- what a blessing again!! (One Photo)

Nice Work Jim: April 2006 - Catalyst is the new Central States Senior Division Champion Quartet. (See: Champions 06

Picts: 10 April 2006 - Colleen & Ann are visiting in Dallas for a few days. Ann (via Glynn and AIM) have sent some picts so we get a good look at Brailey. Brailey is the center of attention of course......

News: 30 March 2006 - Brailey Jane Newman arrived in this world last night just before midnight. Congrats to Sharon and Glynn and welcome to Brailey. See PhotoVault for picts and more info.

Item: 27 Feb 2006 - Tyler has qualified for the NCAA III Swim Meet at the University of Minnesota. We hope to see him swim there. Link ...

News: 8 Feb 2006 - A nice "feature story" (front page no less) in the North Branch newspaper about Carolyn's work in the North Branch schools. "Too Cool For School"

News: 27 Jan 2006 - After Christmas in Florida and Barbershop Quartet Contest in California (7th), Jim had a pacemaker installed in Des Moines. He hopes this will get him "back on the golf course" next summer (Me TOO!).

News: 16 Jan 2006 - Lucien informs me that the "Johnsons" had a "reunion" with the "Hacks" in California. Had a quick email contact with Keith following that and he "promised some pictures". I hope he delivers on that! (28 Mar 06 - Hey! Picts from Diane)
2005
News: 28 Dec 05 - Sharon & Glynn visited for a few days during Christmas. We kept up a "whirlwind" pace with visits to Ann's, Carolyn's & Colleen's homes. We did family Christmas Eve at Carolyn's this year with Carolyn "doing the hosting" -- many of us rang in Carolyn's handbell choir for the Church service -- the new (Colleen initiated/organized) 'White Elephant' gift system was a big success. Now we all have to recover -- See pictures.

News: 18 Nov 2005 - Three quick news notes: 1- We are all so thankful that Jean is again a survivor after cancer surgery on Wednesday. 2- Daniel got his first deer on Wednesday (Nov 16) and Carolyn promises some picts. 3- After a long tryout, Joshua made the BHS High School JV Hockey team and now the intense hockey schedule starts. Congrats to Jean, Daniel and Joshua!!!

News: Nov 2005 - Kyle is busy with Music - Check out the new River Falls Music

NOTE: On Sep 17, many of us enjoyed "Daylight for Minneapolis", a modern dance celebration for the opening of the New Walker Art Center in which Parker Lutz (Tim Thomas) was a lead dancer. A chance to "meet the performer" included dinner and the weekend included many "family" times. (See Fall 2005 for a few family picts.)

News: 1 Sep 05: In the aftermath of Hurricane Katrina and after being concerned about the Bonins, I called Lucien/Ralph since they seem to keep in touch with most of the family. Lucien indicated she had talked to Rita and Joe - everyone is OK - homes may not be OK! 2 Sep 05: Received some forwarded emails from Lucien and now have email addresses for all of the Bonins (see Addressbook) so you may contact them directly. - Photos

News: Jim/Jean are Grandparents (1st one) - Date: June 20, 2005 5:25:55 PM CDT: Grace is here! About 3:25 PM (CDT) baby Grace (8 lbs and 21 1/4 inches) was born. Sarah herself called about 40 minutes later, sounding very happy and strong and we got to hear Grace cry over the phone. (Message from Jean)

NOTE: Tyler Graduates on June 10, 2005 - Open House on June 18 (3-7pm)

NOTE: Ann and Wes have purchase a Lake Cabin. They have provided some Pictures of the Bonewell Cabin in Wisconsin.

NOTE: (Mar 05) Tyler Rochester Club State Swimming Pre-Meet Psych - Pre-Meet Club Season's Best - Final Results with 200 Breaststroke 1st Place

NOTE: (Mar 05) Sharon's new car

NOTE: (Mar 05) Tyler State Swimming Results Tyler Prelims - Prelim Meet - Tyler Finals with 100 Breaststroke School Record - Finals Meet - Team Standings

NOTE: (6 Feb 05) I had a bad auto accident (no one hurt) and Tim located a replacement car for me since my van was totaled.
2004
NOTE: (18 Dec 04) I received a call from Lucien - Alden passed away this evening - funeral on Dec 22 (11am) at Bethania Lutheran Church, Rosholt, SD. Funeral Folder

NOTE: (7 Dec 04) Ann send a couple of news notes on Tyler's Swimming at Burnsville High School.

NOTE: (5 Dec 04) On a "whim", I drove to the MOA last evening (looking for Sat night amusement) and boarded the new Hiawatha light rail train for a round trip to Target Center and back (the full length of the line). Neat ride and it was free this opening weekend! I'm sure it will spur visitors to the MOA on layovers at the MSP AP. The total round trip took about 1 hour 45 minutes so speed is not the primary purpose to use this method of transportation. You should give it a try! (DT)

News Note: Sarah and David were married on Nov 18, 2004 (see NOOZ & PhotoVault).

News Note: Tim T has just had laser surgery for glaucoma. (29 Sep 2004)

News Note: Sarah/David have stocked up on water, lost their phone and power with Ivan, tree branches down, a neighbor's tree in their yard, wind and lots of rain. Have been "on the edge" - are about 25 miles from coast. (Sep 27, 2004)

News Note: Peg/Jim have "lost their Florida" home to Hurricane Charley. Building again a little distance away.(Sep 2004)
---
2003
Ethel Johnson passed away! - Oct 2003

Have A Look!!
Thomas Current Web Cam 2 Image


Click the image for BIGGER
(Click for Web Cam Page)

Thomas Current Web Cam 1 Image


Click the image for BIGGER
(Click for Web Cam Page)
<!!-- start update on home page, newdavid, newhome, index2, start, barebones, & photovault --> (First significant SNOW on Dec 1, 2007 -- 5/6 inches -- it is white now!)
(*First Dusting of Snow for 2007 on Thanksgiving, Nov 22.)
(Brailey will get to see her first snow.)

---
(*First Snow Flurries for 2006 on Oct 11.)
Hard Frost that night and all my annuals are gone!
(Feb 2-6, 2007 - Cold - Double-digits below zero!)
(Feb 24-25, 2007 - SNOW - 12 inches!)
(Mar 1-2, 2007 - SNOW - 12 inches!)

---
("First Dusting" (of snow) for 2005 on Nov 16.)
(December 1st Week - a little snow each day - Looks permanent!)
(Feb 16-18, 2006 - Cold - Below Zero!)
(Mar 13, 2006 - Typical March - New Snow about 10" overnight!)
---
("First Dusting" (of snow) for 2004 on Nov 27.)
("Christmas week - cold and a little snow each day.")
("First Significant Snow on 21 Jan 2005")
("Wet snow on Valentine's Day 14 Feb 2005")

<!!-- end update on home page, newdavid, newhome, index2, start, barebones, & photovault --> (Distinctive Webcam Pictures")
---
Some Possibilities
Pike Web Cam Image (Not working - see previous images)


Click the image for BIGGER

Newman Web Cam Inage (Not up-to-date - see previous images)


Click the image for Archives
Mouse Over to change Image
---
Interesting!!
Harrison Bay, Lake Minnetonka Webcam
(Click for live Webcam)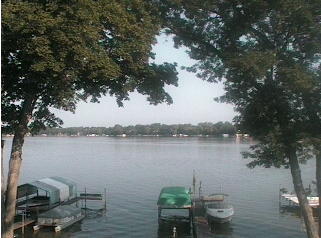 Sand Bay, International Falls, MN
<!!-- img src="http://www.rainylakeonestop.com/netcam.jpg" width="240" border="1" -->(Click Here for live Webcam)

Black Bay, International Falls, MN
<!!-- img src="http://www.islandviewrealty.com/webcam/webcam/netcam.jpg" width="240" border="1" -->(Click Here for live Webcam)

Twins Ballpark Webcam
Click here live Webcam

Golden Eagle Webcam
Click here live Webcam

---
Other Items!
International Falls, Minnesota
Fish Tales
Falls
Daily Journal
Historic Places
---------
Attractions
Hotels/Motels
Things To Do
-Reports-
1 | 2 | 3
<!!-- center) International Falls, MN(br) (a href="http://dryweed.reuter-engineering.com/thermometer/index.html" target="_blank") (img src="http://dryweed.reuter-engineering.com:11111" height=200 border=4)(/a)(br) Click Image (/center) (hr -->
There was a VIRTUAL THERMOMETER for International Fall but it has stopped working. You can access it and see if it has been "repaired"...
(Click Here)